You don't need a degree to break into the tech industry. With the right skills, determination, and a strategic approach, you can find opportunities and build a successful career in tech. In this guide, we'll explore different paths and steps you can take to enter the tech industry without a degree and provide tips to help you succeed in this field. 
Contents
Research the Different Tech Roles and Skills Needed
First things first, it's important to research the different roles and skills that are in demand. Take the time to explore job descriptions and requirements for various tech positions to get a better understanding of the skills you might already have, and the skills you may need to develop. 
In-demand tech jobs
Web Development

App Development

Data Science

Data Analytics

Software Engineering

UI/UX Design

Cybersecurity Analytics
Transferable skills that are great for tech careers
Problem-solving

Communication

Desire to learn

Project management

Working as part of a team

Organisation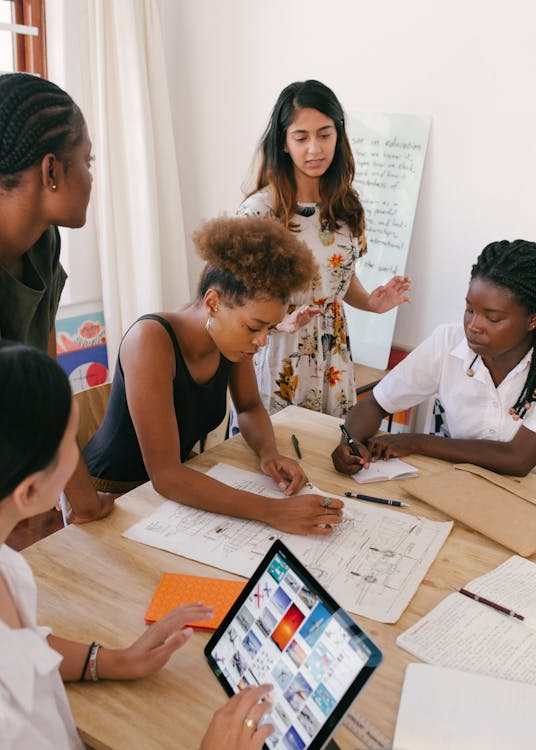 Source: Pexels
Look for common technical skills and technologies that are sought after in the industry, such as programming languages, design, technical programs, concepts, and more. This will help you identify the areas you need to focus on and the skills you need to acquire to increase your chances of success. It's also a good exercise to find out if any of your interests intersect with certain tech jobs, which can make the whole experience even more enjoyable.
Start Studying
Choosing the best way to learn is important to your journey. There are countless websites, platforms, and courses available that can teach you valuable tech skills and knowledge. Additionally, there are often free or low-cost options available, making it accessible for those on a tight budget. By investing time and effort into learning, you can gain the skills and knowledge needed to impress potential employers and land a job in the tech industry.
1. Bootcamps
Bootcamps offer accelerated learning in a variety of technical subjects. According to research by LinkedIn, 72% of employers think that bootcamp graduates are just as prepared and likely to be high performers as candidates with computer science degrees. Another 12% think that bootcamp grads are more prepared and more likely to succeed than traditional job candidates. Learning through a bootcamp can both enrich you with knowledge and prepare you for a professional environment. We have Full Stack Development and Data Science bootcamps that are offered both in-person and online, and part-time or full-time.
Pros: Bootcamps surpass formal education in flexibility and affordability. Most of them can be as short as a couple of weeks, and offer part-time, remote options as well. In addition, they are also taught by industry professionals and provide updated education related to in-demand skills and technologies. This allows for a greater demographic to access that transition to a new tech career.
Cons: Bootcamps can move faster than other learning programs, which can make the learning curve a bit more intense. However, if you stay consistent and compassionate towards yourself, you can be successful with this. 
2. Online courses
Another great way to learn tech-related skills without a degree is to take advantage of online learning resources. Websites like Coursera, Udemy, and Codecademy offer a wide range of courses in programming, web development, data science, and more. Many of these courses are self-paced, allowing you to learn at your own convenience. 
Pros: There are many tech resources available online, with some being free. They are also often put together by industry professionals, depending on the course provider. You also have the freedom to choose when you want to learn, and some even give certificates upon completion. Certificates can be great to display your level of knowledge and show potential employers that you've put in the necessary work.
Cons: Mentorship and one-on-one support are not always available, and this can be extremely helpful as a beginner. Developing best practices, and working on a project with a team can be harder to accomplish when using learning platforms like online courses.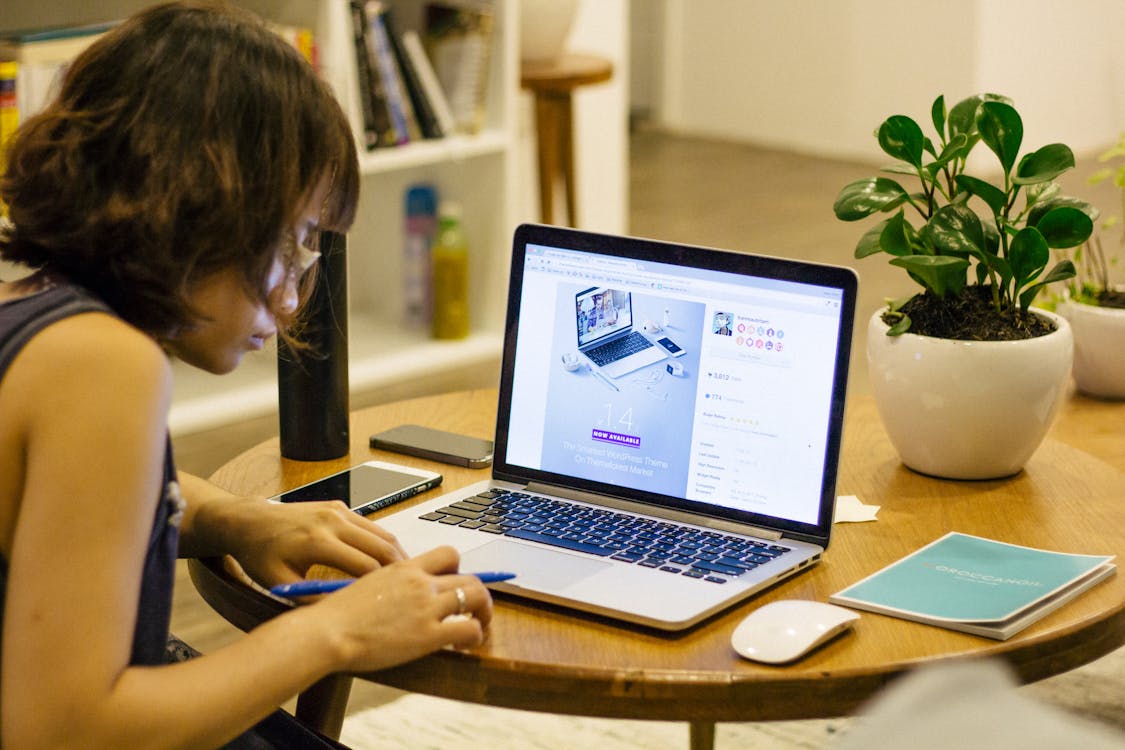 Source: Pexels
3. Self Study
Nowadays, you can find content enabling you to teach yourself tech skills in all corners of the internet. Youtube, for example, has beginner-friendly resources for just about any tech-related skill, as well as in-depth explanations of concepts and tutorials for projects. 
Pros: With self study, you are free to study what you want at your own pace. You are in complete control of how much content you take in at any given time, and how you choose to practise.
Cons: While you may be learning from real people, the experience is not personalised nor intimate, so you are not always likely to have all your questions answered. The concern of best practices is also raised here, as learning in this case would be done independently.
Build a Strong Portfolio of Projects
One of the best ways to learn is by doing. A great way to support your break into the tech industry is to build a strong portfolio of projects. Employers often value practical experience and tangible examples of your work more than formal education. Start by identifying projects that align with your interests and the skills you want to showcase. This could be creating a website, developing a mobile app, or even contributing to open-source projects along with other professionals.
A great example of this is one of our Full Stack Development students, Zarina, who developed the website "CycleSavvy" as her very first project. Zarina's site helps people with periods track their cycle, and provides them with self-care tips related to the symptoms they may feel on any given day. It also provides their partners with tips on how to support them through such times. 
Source: LinkedIn
As you work on projects throughout your learning journey, document your progress and showcase the final results in your portfolio. This will not only demonstrate your skills and abilities to potential employers but also give you valuable hands-on experience that can set you apart from other candidates.
Network and Attend Tech Events
Networking and attending tech events can be a great way to help you break into the industry. These events provide opportunities to meet professionals in the field, learn about job openings, and gain valuable insights and advice. Look for local tech meetups, conferences, and workshops in your area and make an effort to attend them. Be proactive in introducing yourself to others, asking questions, and showing genuine interest in the industry. Building connections and relationships with people already working in tech can open doors to job opportunities and mentorship. Additionally, attending these events can help you stay updated on the latest trends and technologies in the industry, which is crucial for success in the tech field.
Online workshops & events
Attending online workshops & events can be a great way to access learning & networking opportunities without having to travel. Seeing as there is an increased popularity in tech jobs, there are also many online meeting opportunities that are tailored to those looking to make their transition to tech. These can range from interviews, information sessions, job search advice, resume & LinkedIn profile reviewing sessions, live tutorials, and more. One example is our very own free introduction to coding workshop that we offer once a month, allowing beginners to learn more about the basics of coding and put it into practice with an activity.
Events in your city
Online meetings are increasing in popularity, but professionals are gathering just as often in person to share knowledge. This can be a great way to establish a face-to-face impression while networking, especially if you're looking for job opportunities in your city. They can also sometimes offer a more intimate networking experience than online events. Some ways this can manifest are in paired practice events where you can complete an activity with a person or partner, or open study events that have a mentor on-site to help beginners. Sites like LinkedIn, Meetup, Eventbrite or Facebook are great ways to find such events.
Joining communities & collectives
Making the transition to tech is a huge accomplishment, and it can sometimes be challenging to do it completely alone. Having a community can help motivate you on your journey and give you a space to exchange encouragement with others in a similar position. This can be all the more true for marginalised groups, as you can share your journey with people who understand your lived experiences. From LinkedIn to Slack, or even Twitter, there's a community looking to encourage you on your tech journey. We run a Women+ in Web Development facebook group, which is a home for women+ in the developer space to share resources, job opportunities, scholarships, experiences, and much more.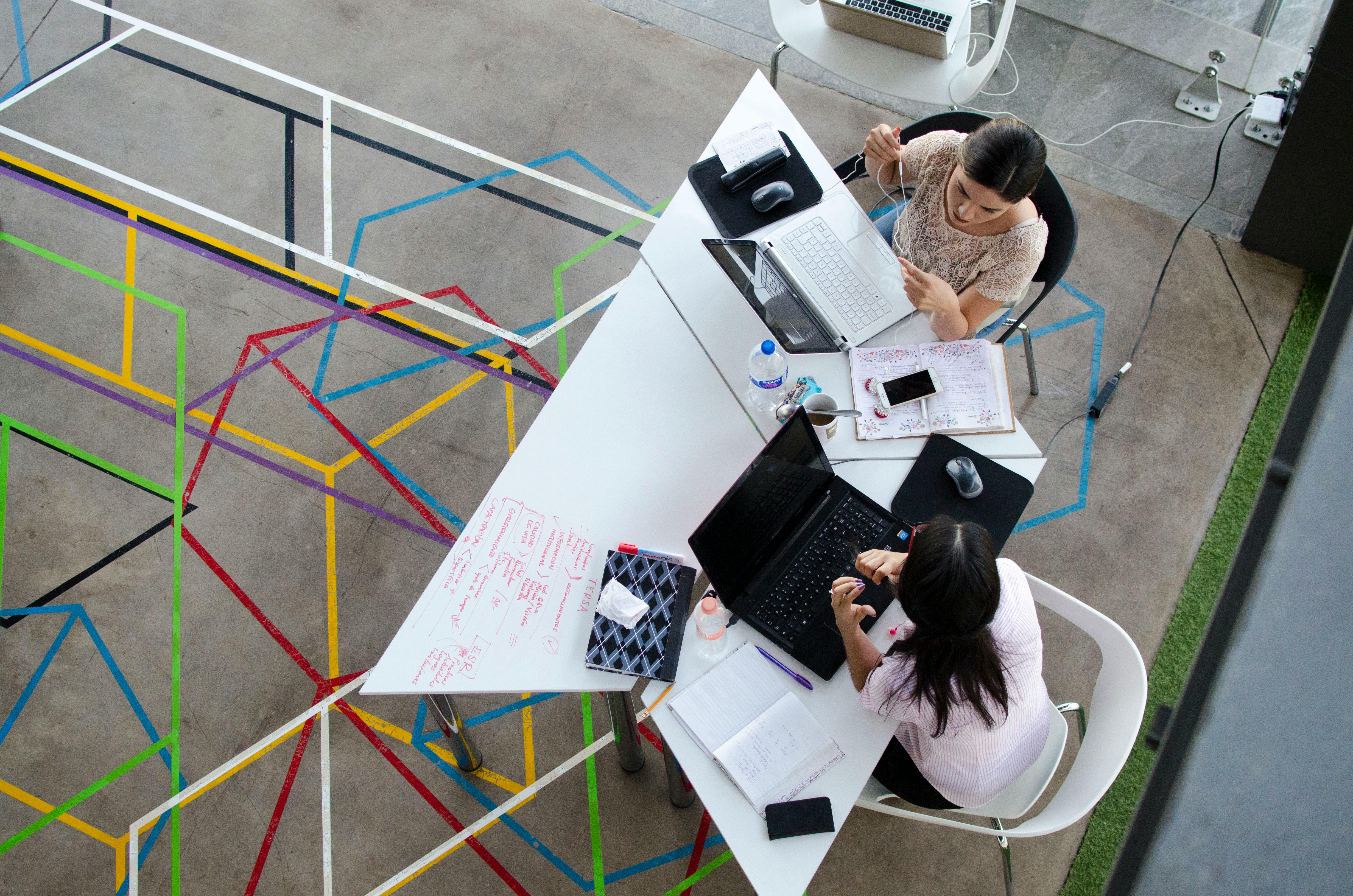 Source: Pexels
Gain Real-World Experience Through Internships or Freelancing
While a degree may not be necessary to break into the tech industry, gaining real-world experience can greatly enhance your chances of landing a job. Internships and freelancing opportunities allow you to apply your skills in a practical setting and build a portfolio of work. Look for internships at tech companies or reach out to local businesses to offer your services as a freelancer.
These websites are great ways to find real projects:
These experiences not only provide valuable hands-on experience but also allow you to make connections in the industry. They can also help you build relationships with professionals who may be able to recommend you for future job opportunities, and give you the confidence to continue learning and move on to more complex projects. 
Conclusion
Job seekers with technology skills have promising opportunities, and this undoubtedly includes those without a degree! Our digital world evolves quickly, and so do the needs of companies. The current employment environment allows candidates to get a tech job without a degree, and there is certainly an increase in accessible opportunities for people to transition to tech careers. With just a computer and an internet connection, you can go from having no tech experience to completing full projects. Don't underestimate the power of practical experience when trying to break into the tech industry without a degree. This can both give you confidence to continue, and show potential employers your capabilities. Like with most jobs, it is important to build your network and community, to maximise your learning potential, your visibility for jobs, and just to feel supported in your journey. With these steps applied, as well as consistency and compassion for yourself, you can make a successful transition into a tech role with no degree.
FAQS
How do you break into the tech industry?
There are many options to break into a tech role, and they don't all involve formal education. There are bootcamps that teach technical and professional skills, online courses and certifications that enable you to work at your own pace, free online tutorials that give you an idea of certain technologies, and more. It is important to be clear on the type of role you want to pursue, and build a network while putting together a portfolio to show off your skills.
Which tech job is best for introverts?
Introverts thrive more in roles that involve one-on-one interactions, quieter workspaces, and a higher amount of independent work as opposed to group work. Some tech roles that can provide these are Software Engineer, System Administrator, Web/App Developer, and Data Scientist.
Am I too old to get into tech?
There is no age restriction when it comes to transitioning to tech! Anyone, regardless of age, can achieve a successful transition to the tech career they want. All you need is a willingness to learn, discipline, consistency, and the determination to take on your new career journey.
What tech jobs don't require coding?
While it can be an asset, there are many tech jobs that don't require you to learn or use a coding language. Some of them are UI/UX Specialist, Technical Writer, Graphic Designer, Project Manager, Tech Marketer/Salesperson, and Business Analyst.